So you've downloaded the Dragon Con mobile app to your smartphone or tablet. Here's a few hints and tips to help you get the most out of it:
---
The Dashboard is the app's main screen. Your Dashboard may look a little different due to cross-platform variances, but the icons and their functions should be essentially the same.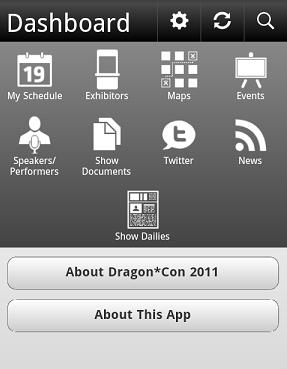 | | |
| --- | --- |
| | |
| The app automatically checks and pushes programming updates to your device. Tap the Refresh button to download them when it turns red. | Tap the Search button to easily find the panel/event or guest you want to see. |
| | | | |
| --- | --- | --- | --- |
| | | | |
| Tap to go to your convention calendar. Panels and events you add through Events will be updated automatically. | Tap to see all the vendors and exhibitors at the convention, as well as where you can find them and their wares. | Tap to see maps of the track rooms and other venues in the host hotels. These are viewable offline if you're in an area without an Internet connection. | Tap to see all programming by track. Favorite an event by tapping the star in the corner of the description, and it will automatically be added to My Schedule. |
| | | | |
| Tap to see the programming that our celebrity guests and performers are scheduled for. | Tap to download and read PDFs of useful convention information, such as the parties list, the shuttle bus routes/schedules, and parking rates and information. | Tap to see all Twitter tweets using the #DragonCon hashtag. You can also post your own tweets from here if you login the app to your Twitter account. | Tap to download and read PDFs of each issue of the print edition Daily Dragon. |
Tap to see @Daily_Dragon Twitter tweets filtered to include only:

[PGM] programming updates
[NEWS] articles and interviews
[PARTY] information
[DD] general convention tweets

Note: This feed is refreshed every ten minutes, but you may need to refresh it to see the most current News items.

Eugie Foster, when not flexing her editorial muscles for the Daily Dragon, is an award-winning writer of science fiction, fantasy, horror, and YA/children's lit. She received the 2009 Nebula Award for her novelette, "Sinner, Baker, Fabulist, Priest; Red Mask, Black Mask, Gentleman, Beast," the 2011 and 2012 Drabblecast People's Choice Award for Best Short Story for "The Wish of the Demon Achtromagk" and "Little Grace of the House of Death," and has been nominated for the Hugo, British Science Fiction, and Washington Science Fiction awards. Her works have been translated into eight languages, and her short fiction collection, Returning My Sister's Face and Other Far Eastern Tales of Whimsy and Malice, has been used as a textbook at the University of Wisconsin-Milwaukee and the University of California-Davis.